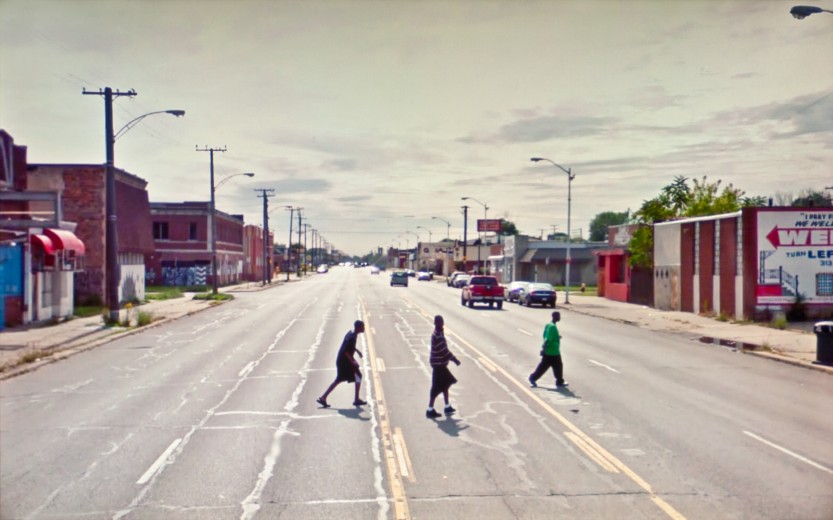 Doug Rickard is a rebel photographer with a cause. Born into a conservative Christian family, son of a preacher, Rickard barely managed to graduate high school. After a five-year hiatus, he attended the University of California, San Diego, studied history, and graduated in 1994 with a sense of purpose. Set in perennial opposition to his father's dogma, Rickard was drawn to underserviced, poor, neglected, and otherwise marginalized American neighborhoods. He started two websites, American Suburb X and These Americans (NSFW), that pick up where Walker Evans and Diane Arbus left off—they are a collection of remarkable essays and images, archival and contemporary, that reflects on an America not captured in the mainstream media. Indeed, Rickard's most famous show, A New American Picture, explores an America that is perpetually visual and always hidden.
I first encountered Rickard's work at the Museum of Modern Art's exhibit New Photography 2011.  Rickard roams broken streets and empty neighborhoods with Google Street View, and then digitally photographs chosen images from his computer screen. He also removes the Google watermark and reformats the photos to panoramic dimensions. In the gallery, I found the photographs interesting and powerful, if overly cerebral. I didn't rethink my initial opinion until I started researching digital and techo-inflected art for this blog.
Rickard's work is more powerful when viewed on the computer than when blown up on a gallery wall. The digital images look saturated in comparison to their pixelated installations; they provoke a stronger emotional response than the blasé, muted gallery prints. In one photo, a man stands on a concrete storm drain. It's autumn and the houses behind him glower. The mystery of the image is palpable but not aggressive; it does not demand interpretation; the mystery is suspended, unknowable but not irritating. In another photo, a woman in lime green pants strolls next to a neon red building. Stenciled by hand on the wall: "Quick Car Wash!" Why is she running? Why is that man is perched on a pipe staring into space? Or why is a different subject washing the sidewalk with a garden hose in front of a desolate white anonymous building? Rickard's cryptograms are indecipherable. We may speculate and imagine. Yet, we always meet a wall, a limit beyond which any interpretation proves absurd or even impossible.
As I mentioned, Rickard has drawn these images from Google Street View, a technology of digital surveillance. Google Street View epitomizes panoptic survey, the distribution of punitive and disciplinary power across a social system. Log into the program and, as Rickard did, take a virtual road trip. Along the way, monitor the people you meet. But unlike on other ethnographic explorations, you are invisible, undetectable, like a military drone seeking an unwitting target. The surveillance work is displaced one degree, from the spectator to Google Street View's minions—a group of equally anonymous photographers driving around in sinister white vans. The lives of others are so tantalizingly close they could be plucked from their branches; they are, in Rickard's rendering, beautiful, cold, sweet, distant and forced into the viewer's immediate frame of reference. Rickard's subject is intensely ethnographic. He spectates on the wonderful and criminal boundary artifacts of modern America: the poor, the disenfranchised, the inner city. 
Whereas other artists who have worked with the same ethnographic questions have aestheticized their subjects, reducing them to objects—I'm thinking of Trypps #6 (Malobi) and the Menil Gallery's "primitive" art collection—Rickard avoids that trap. In effect, these photographs achieve a certain beauty on the basis of their refusal to aestheticize. They practice a faithfulness to the subject's integrity. If Rickard's photos disclose how the Internet and corporate politics hold the specimen in a spot glass, they cannot help but permit their specimens a measure of resistance. Rickard reveals and appropriates but does not justify the apparatus of surveillance. He uncovers the inadequacy of a metaphorical microscope to know completely the wriggling bacteria circling aimlessly on the slide.  Lionel Trilling described Walker Evans's relationship with the photographic subject in similar terms. Commenting on Evans's portrait of Annie Mae Gudger, Trilling wrote, "Mrs. Gudger with all her misery and perhaps with her touch of pity for herself, simply refuses to be an object of your 'social consciousness'; she refuses to be an object at all—everything in the picture proclaims her to be all subject." Similarly, Rickard's photographs contain a subversive force, a counter-narrative, or an anonymous, blurred glance back at the lens that undermines the project's entire premise. That quality of opposition, contained but not neutralized, marks Rickard's work as a momentous resistance against institutional strategies of surveillance.
Digital publishers and social media platforms are approaching Rickard's day of reckoning. Soon, the battle for privacy and against surveillance will reach a decisive moment, if that moment has not already been passed. Instead of facing many rebels, all devoted to the same cause, institutional giants and startups alike should begin developing alternative privacy systems dedicated to the integrity of the human subject. That means treating the 'user' as a discrete and integral unit, not an extractable resource only meaningful to advertisers and marketing partners. A respect for human intelligence should inform analytics, design paradigms, and advertising programs.